Typically I would say that there isn't all that much going on in my backyard… I do some gardening, etc. – a relatively new thing for me coming from NYC where most people don't really have anywhere to garden, as you might imagine – but other than that, what can I say… It's a yard. It does yard-y things except this Spring I had a couple of robins build a nest in this bush right by my patio door.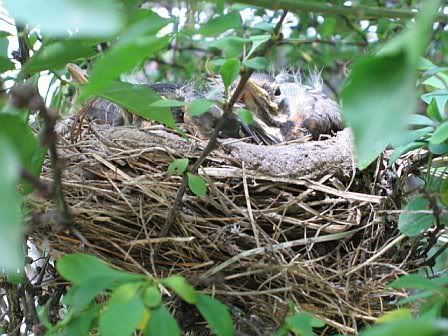 The bush that they built in is a down-right evil bush… It has attacked me more times than I can count since I moved in. It has these nasty little stickers that cover it and whenever I get too close, it thinks nothing of stabbing me with its stickers which then proceed to break free and embed themselves in my hand, arm, leg…wherever it feels so led. For the robins, I imagine this makes a perfect place to nest since not many living creatures could survive in this bush.
Anyway, the robins built one nest which they constructed a little too close to the end of a branch and it ended up falling. Undeterred, they began again and built another one a little further in which seems to be holding up just fine.
A few weeks and several eggs later, the baby robins have now hatched and are sitting comfortably stuffed in their little home. They are the sweetest things!! I've been watching their mother pop in and out periodically with worms, berries, and other sustinance for them.
I go out each morning and say "hi" to them and also check on them again when I get home from work. I've decided it's best to not tell Brighton about them since she might get jealous…
(For those who don't know, Brighton is my cockatiel).
So that's it – just wanted to share since this is by far the most exciting thing that's happened in my little yard since I moved in. Ciao for now!